IN-OPERANDO MEASUREMENT OF POUCH CELL WITH XRD
Introduction
The reaction behavior of cathode and anode materials can be analyzed by in-operando X-ray diffraction (XRD) measurements during the discharge and charge process. In addition, the material's degradation behavior can be directly observed during the repeated cycling. As an example, in-operando XRD measurements were performed on a lithium metal oxide battery focusing on the behavior of the cathode material (NMC). The study was performed through repeated charging and discharging cycles in order to investigate the deterioration of NMC. As the number of discharge and charge cycles were increased, it was found that the lattice constant expanded while the battery storage capacity decreased. The lattice expansion is due to Li-ions from the cathode being captured by carbon in the anode. The captured Li-ions are removed from the charging and discharging process, effectively reducing battery storage capacity. As the amount of captured Li-ion increases, metal dendrites will eventually be generated, causing the battery to short-circuit.
Waterfall plot of cathode material (NMC) with
charge-discharge cycles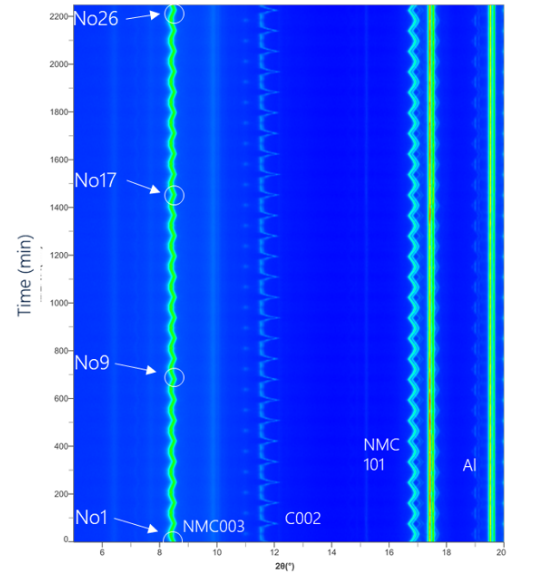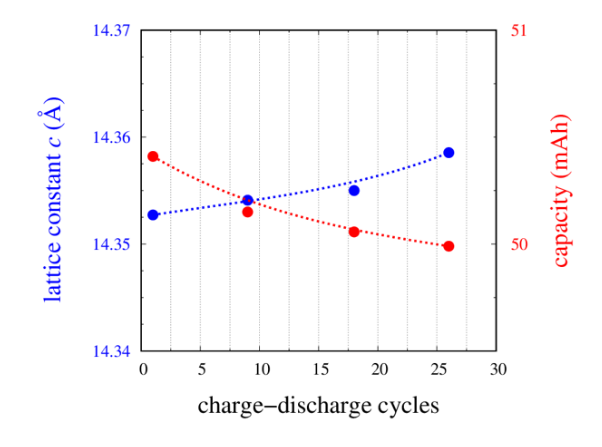 Lattice constant 'c' vs capacity with charge-discharge cycles
Samples provided by Toray research center, Inc.